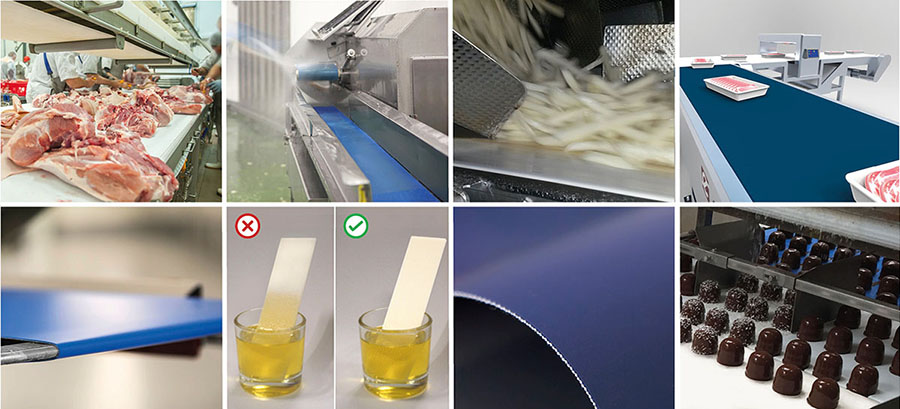 Belts of 1-ply and 2-ply which comply strictly with FDA food normative and/or EU regulations EU 10/2011 and EC 1935/2004, supported by their corresponding Declaration of Compliance.
TPU is a thermoplastic with high resistance to abrasion and is suitable for applications where the products are abrasive or where scrapers and side skirts are used.
The smooth and mat cover belts are non-porous and are easy to clean. Esbelt also offers belts with topcover embossments.
Above average load capacity but high flexibility for knife edge applications.  The impermeabilized fabrics are "Wick Resistant" which prevent the absorption of liquids (pass Wicking Test G11), enhancing hygiene.
Within the TPU range, we have 2 series:
Standard TPU
Highly resistant to animal and vegetable oils and fats, no cracks, high level of hygiene.

Prevents accumulation of soils and micro-organisms.

Recommended for oily and abrasive applications.
Premium TPU 
Bacteriostatic formulation with strong and long lasting anti-microbial and antibiofilms effects (ISO 22196).

Highly resistant to hydrolysis.

High flexibility under cold temperatures.

Specially recommended for applications where there is strict cleaning and disinfecting protocol, where there is high humidity and the control of microbial load is of vital importance.
Get to know the effectiveness of our anti-microbial component (video)
Main characteristics of the belts in the TPU & TPE range: