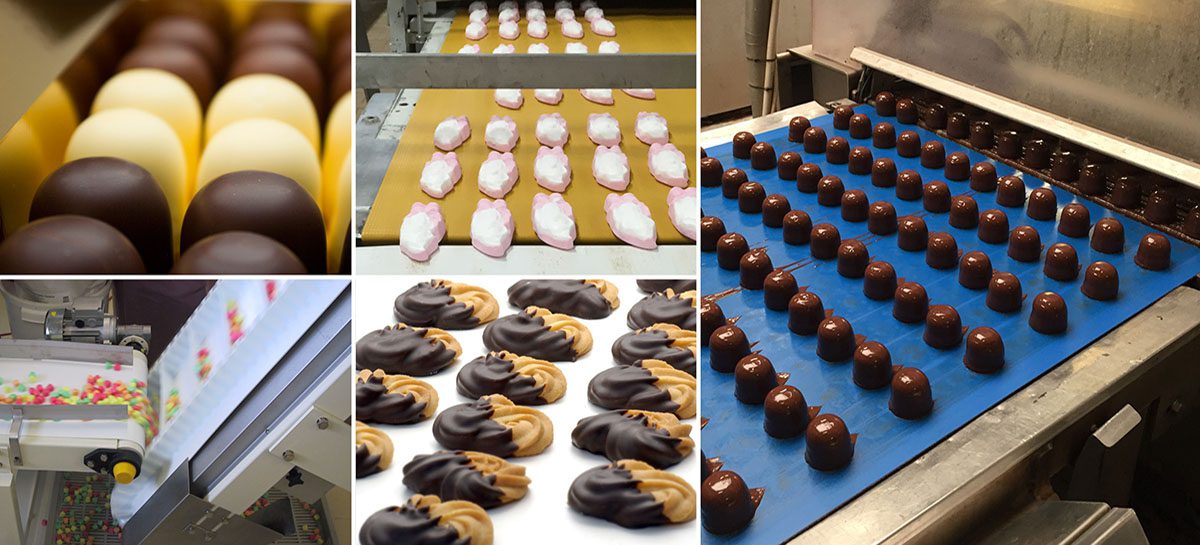 Features of our belts for Chocolate:
Silicone belts in white, transparent and blue.
Non-stick belt top cover with excellent release of sticky products.
Wide range of temperature variance. Excellent thermal conductivity for cooling tunnels.
Resistant to vegetable oils and animal fats.
FDA and EU 10/2011 food quality both the belt and their raw materials.
Standard TPU belts in white, blue, light green, brown and ocher.
Highly resistant to animal and vegetable oils and fats, no cracks, high level of hygiene.
High resistance to abrasion.
High flexibility for knife edge applications
Possibility to weld profiles and sidewalls.
FDA and EU 10/2011 food quality both the belt and their raw materials.
WITH MATT COVERS.

Silk matt, homogenous, non-porous, easy to clean cover.

Low adherent, non-stick belt cover for a good product transfer and positioning.
WITH GLOSSY COVERS.

Smooth, homogenous, non-porous, easy to clean cover.
WITH EMBOSSED COVERS.

Avoid chocolate accumulation on the product base.

Improves product transfer.
We offer a wide array of conveyor belts for chocolate and candy production lines.  They include conveyor belts  for machines that produce chocolates, toffees, candies, sweets, caramels, chewing gums and other confectionary products.
For conveying warm extruded sweet dough that is very sticky, our silicone VERNA belt series and the NOVAK 13SF with their good release property yield excellent performance. Depending on the load and pulley diameter, the one or two-ply belt may be used. Our Verna series belts work perfectly as candy conveyor belts.
For conveying cold and non-sticky dough, our PU belts in the CLINA series, e.g. CLINA S09UF works very well in this application in the cooling tunnels.
Where loose candies need to be elevated, cleats and runers can be welded by high frequency machine onto the top covers of CLINA S12UF or CLINA S20UF.
For chocolate bathing outlets and cooling tunnels, we have a full range of TPU and polyester belts that can withstand low temperatures while maintaining high longitudinal flexibility for working on knife edge applications.  Our thermoplastic polyurethane TPU belts are excellent as conveyor belts for chocolate machines.
Check out more about the different properties we can offer in our conveyor belts to help you face the challenges in your production lines and processes.