Belt features in the corrugated carton box industry:
Belts with topcover patterns that offer excellent grip, avoiding slips and product jams.

Excellent resistance to abrasion.

Belts with longitudinal patterns in the printing process, prevents the ink from forming a film on the belt and affecting the grip.

Possibility to drill holes for suction. Vacuum effect to hold the product in place and avoids sliding.

Very stable in applications with high speed (up to 4m/s) improving production.

Flat transmission belts and  high performance Hipro series in applications with high abrasion.
In the corrugated carton box industry, there are 2 types of processes:
Corrugators or carton production – Production of corrugated carton from big rolls of kraft paper. The sheets produced are cut into different dimensions and used for carton box production. Belts between 2 and 3m wide,  in some cases with longitudinal guides to help with the alignment, are used at the exit, die-cutter and stacker of the carton sheets.  The grouping of cut sheets are done on belts with topcover patterns on inclined sections and smooth belts on level sections.
Corrugated carton box production – Carton sheets are cut, printed, folded and glued to form boxes of varios sizes and formats.
Feeding. Our belts with patterned top cover provide good grip while not damaging the product.
Destacker. Conveying the cut carton sheets to the next process on narrow belts parallel to each other and with patterned top cover.
Die-cutter exit towards the folder. Flat trasnmission belts or belts with pattern or smooth top cover that offer excellent adherence and abrasion resistence.
Conveying by parallel sets of narrow belts with perforation for suction and stacked by round belts.
Printing. Belts with longitudinal embossement that prevents the ink from forming a film on the belt top cover which reduces the grip and guarantee a perfect grip.
Folder and box presser through flat transmission belts or process belts with thick top cover with high grip to avoid misalignment of the product.  High resistance to abrasion and mechanical wear.
Types of belts according to application:
ASTER 24QF / ASTER 33QF
-Inclined conveyors, feeder, de-stacker, printing, folder-gluer.
ASTER 12G2F / ASTER 20G2F
- Inclined conveyors, feeder, feeder-gluer and packer.
BREDA 23 / 24 y 33CF
- Cutter and folder-gluer.
BREDA 12 / 20 / 22 y 25CF
- From light (sheet grouping, scrap collectiond) to heavy applications (multiple stackers, heavy box compressors...).
HIPRO 12Y1R / /18Y1R / 13GR
-Folder-gluer and printing lines with high speed up to 400m/min.
FEBOR 12CF / 14CF y 15CF
- Scrap collection after sheet cutting and down stackers.,
Transmission belts EE y EE*/*
- Folder-gluer and box presser.
EG10/7
- For flexo folder.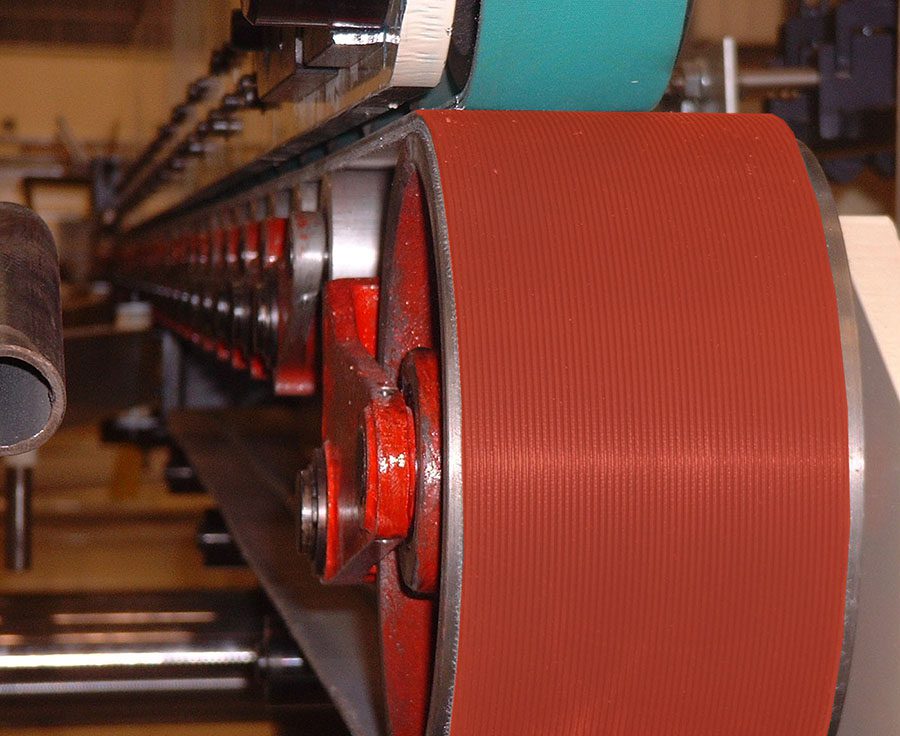 ASTER 24QF with longitudinal topcover pattern with high grip.