A bucket elevator belt is a combination of high strength belting with metal or plastic buckets attached to it.  It is commonly used for elevating bulk products in granular form in an enclosed structure to a higher point for unloading into a silo.
Our bucket elevator belts with multi-layer fabric construction distributes load evenly reducing elongation.  Less time is needed to re-tension the belts, saving maintenance costs.  Lighter compared to rubber belts, energy consumption is reduced by using our bucket elevator belts, lowering production costs.
We have a wide range of belt types for different products.  Food grade, abrasion resistant, vegetable oil and animal fat resistant belts are available for food applications.  Abrasion, cut and mineral oil resistant belts are also available for industrial applications.
Features of our Bucket Elevator Belts:
High load capacity.

Low energy consumption.
Our most commonly used bucket elevators belts are:
ESPOT and DRAGO 30CC, 40CC & 81CC, ESPOT 90CC as well as FEBOR 31CC, 32CC, 41CC, 61CC & 81CC.
Choose from our lightweight range of polyethylene and polyamide thermoplastic elevator buckets with capacities from 0,22L  to 3,45L.   For carrying granular products (cereals, feeds, oleaginious fruit, etc.)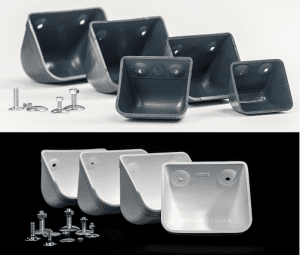 Bucket Elevator Belt Perforation
A part from supplying belts and buckets for bucket elevators, esbelt also offers belt perforation services.
For belts up to 6mm thick, we can perforate
holes with diametres from 3mm to 16mm in intervals of 1mm;
holes with diametres from 16mm to 30mm in intervals of 2mm.
For belts between 6,1mm to 9mm, we can perforate
holes with diametres from 3mm to 15mm in intervals of 1mm.
Choose the right belt for bucket elevator application.
A thick belt is not always the most appropriate one and a bucket elevator belt works differently compared to a conveyor belt.   Choosing the right belt for your bucket elevator can reduce time and costs of maintenance, save energy and improve production capacity and efficiency.   Contact us and tell us about your elevating needs, we will help you assess your requirements.