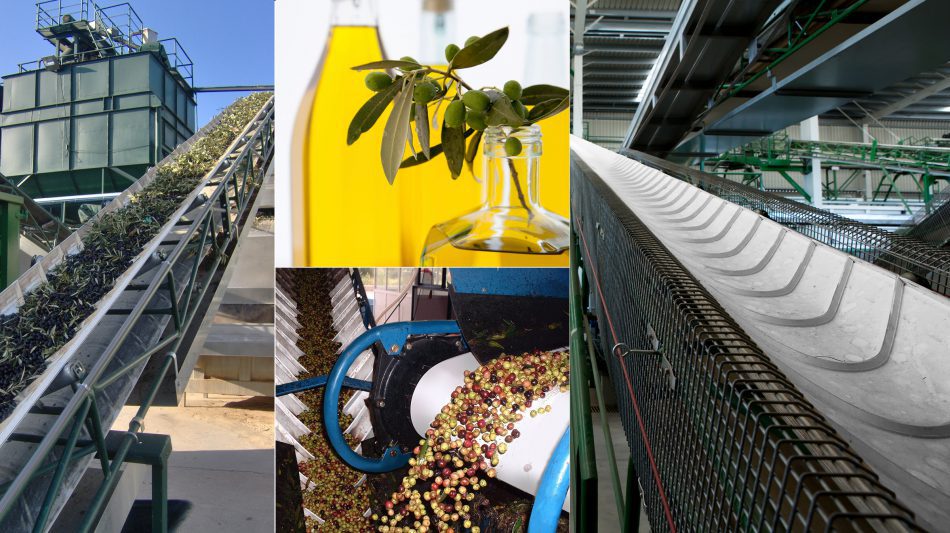 Non-toxic, FDA and EU Regulation 10/2011.

High load capacity.

Robust, long lasting, high performance.

For troughed and inclined conveyors.

Easy-to-clean surfaces.

Available in white and blue.

Most common belts: ASTER 36X1C, ASTER 26X1C, ASTER 26XC.
Spain is the world's leading olive oil producer and esbelt is proud to play a part in bringing quality olive oil to the world.
During the primary processing, harvested olives are transported from one process to another on esbelt chevron conveyor belts ASTER 36X1C, ASTER 26X1C and ASTER 26XC.  These PVC belts are preferred over conventional rubber belts as they are non-toxic, phthalate-free and comply to the European Union food quality regulations EU10/2011.  They are particularly suitable for processing organic and ecological olive oil.
esbelt´s PVC belts with 15mm high herring-bone profiles and side walls prevent olives from falling off the belt.  Its robust design also prevents the belt from elongating during peak production.   With thousands of metres already installed in olive processing plants across Spain, our belts have proven to be 2.5 times higher in load capacity compared to other PVC brands of conveyor belts.
For the washing and draining of olives, we recommend our Washflow series, high resistant PU mesh belts.
Aster 36X1C - 800, 600, 500 and 400 mm
Aster 26X1C - 800, 600, 500 and 400 mm
Aster 26XC - 800, 600, 500 and 400 mm
Clina 20CF - 3000 mm
Video: Washing & draining of olives
Olives are washed upon reception in the hopper. They are conveyed on esbelt´s PU mesh belt WASHFLOW with profiles that resist the strong flow of water and high speed. In the second part of the video, the olives are completely drained on WASHFLOW.  These belts have been installed in many olive processing plants. They are easy to clean and do not elongate.