esbelt positive drive conveyor belts
Smart Drive is the new proposal from esbelt that replaces modular and homogeneous belts. They are positive drive belts that meet the most demanding needs. Smart Drive is made of Premium TPU with high resistance to animal and vegetable fats, abrasion, and hydrolysis, complying with EU Regulations EC 1935/2004, EU10/2011, and FDA.
Design flexibility
Smart Drive adapts to conveying needs and can be configured in multiple ways to guarantee its best performance in each application.
Optimal centering of the belt
The toothed profiles, on the bottom cover, enable optimal centering, prevent damage due to misalignment, save costs and maintenance time.
Advantages of Smart Drive over modular and homogeneous belts
Advantages over modular belts
Easy to clean, reduced risk of contamination. More security.
Water savings, reduction in cleaning hours, less waste water treatment.
Less noise pollution.
Less weight, energy saving.
Advantages over homogeneous or monolithic belts
Less elongation.
No misalignment if there is an accidental cut.
High dimensional stability, avoiding undulations and deformations on the surface.
Allows for customised design and fabrication of long conveyors.
Anti-microbial formulation.
Blue double cover TPU belt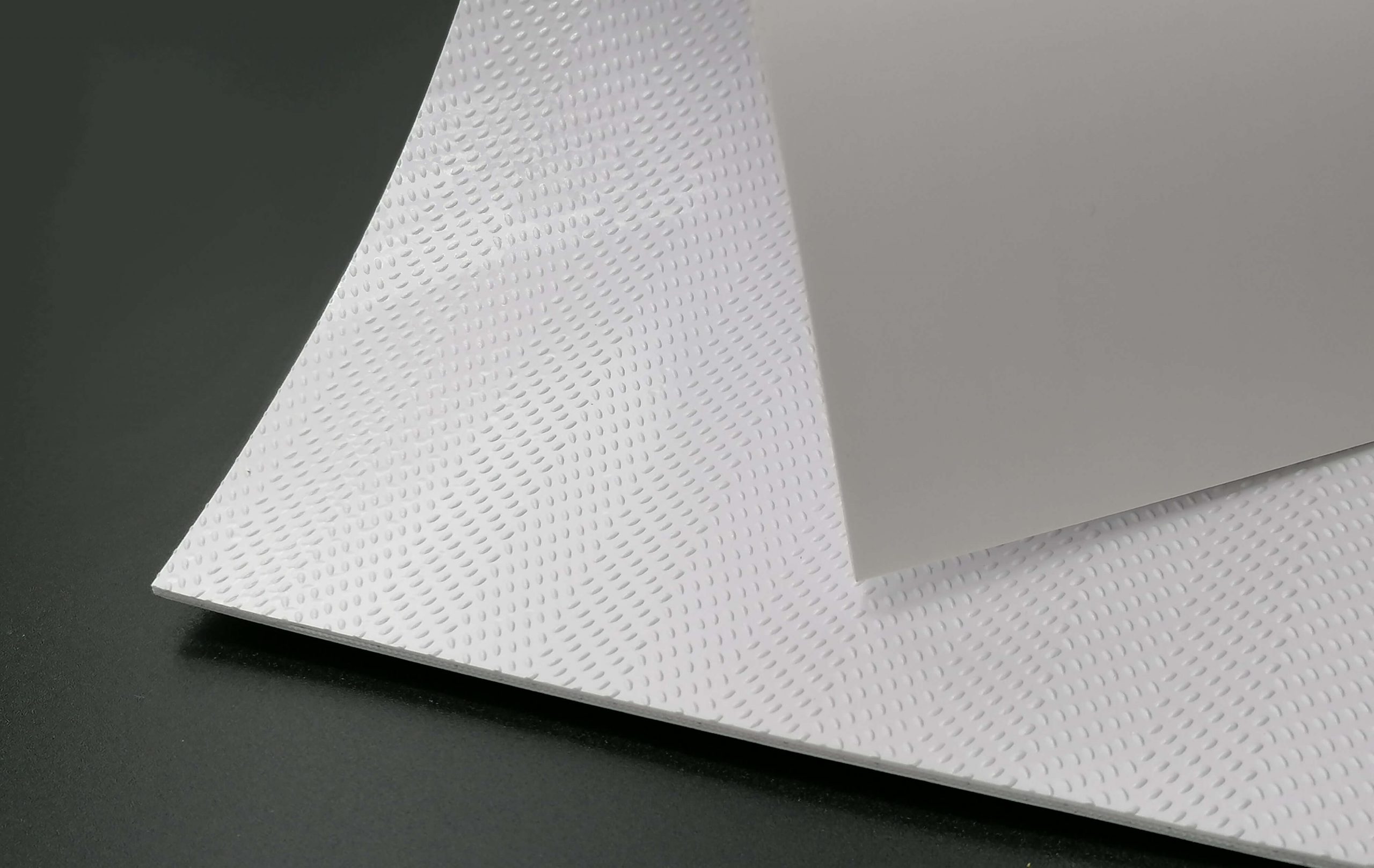 White double cover TPU belt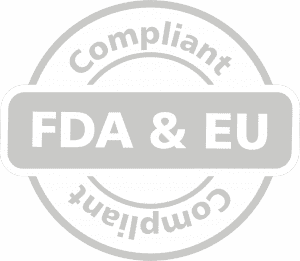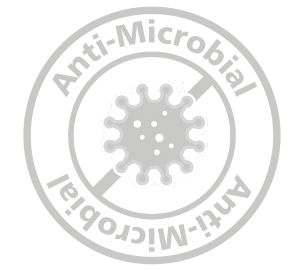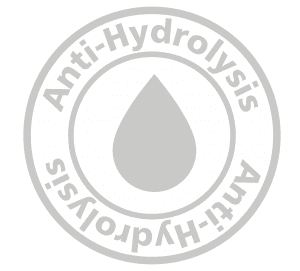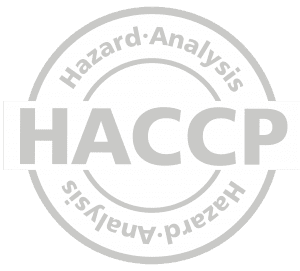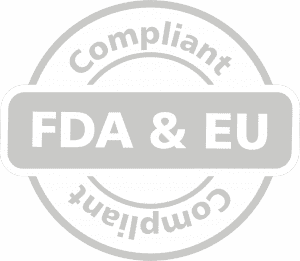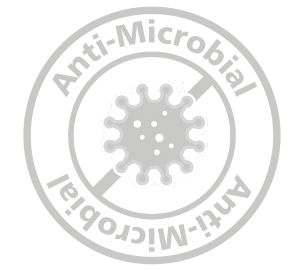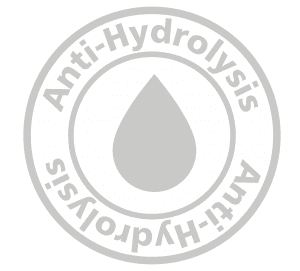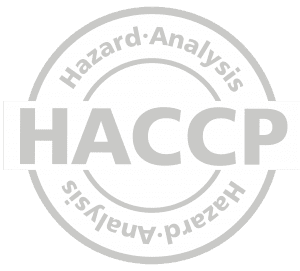 Our Smart Drive belts comply with FDA and EU regulations to ensure food safety. Its TPU has a bacteriostatic formulation that reduces microbial growth and is anti-hydrolysis, allowing frequent washing sessions, keeping it in perfect condition.
As we are committed to the highest quality standards, our Smart Drives support the implementation of a HACCP system.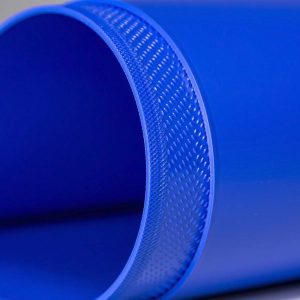 Sealed edges as an additional safety and protection measure, preventing the accumulation of dirt that contributes to microbial proliferation and ply separation.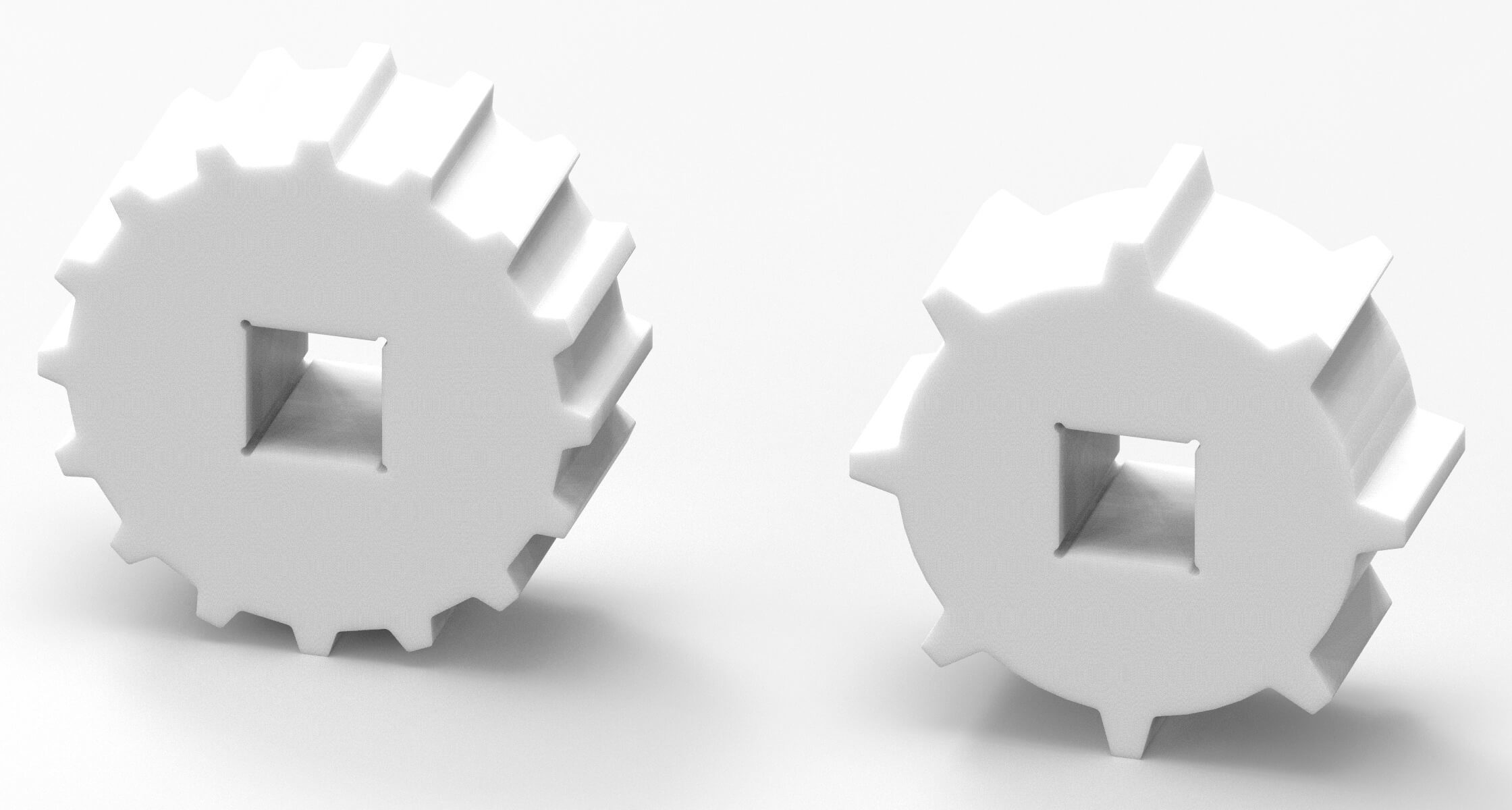 PEHD sprockets  transfer the traction exerted by the engine to the Smart Drive belt motion with very high precision and dimensional stability.
Several types of sprockets are available and a suitable one can be chosen depending on the Smart Drive configuration.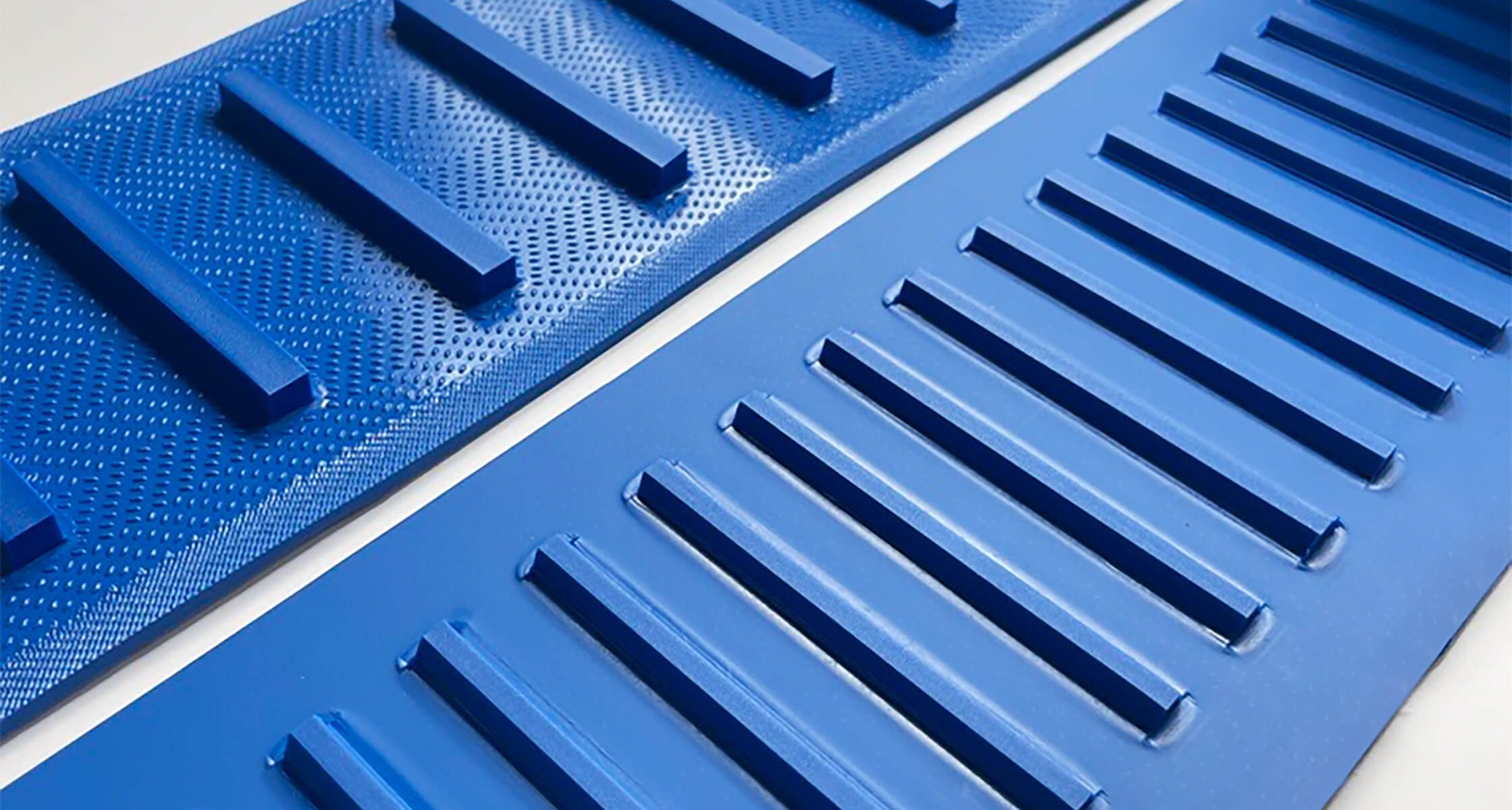 The toothed profiles can be configured in different ways on the bottom cover of Smart Drive to achieve maximum self-centering of the belt. It is possible to define the length and arrangement of the toothed profiles according to each conveyor. They can be welded along the entire width of the belt, only at the center, or arranged in different rows.
Pitch 20mm between toothed profiles:

Pitch 40mm between toothed profiles: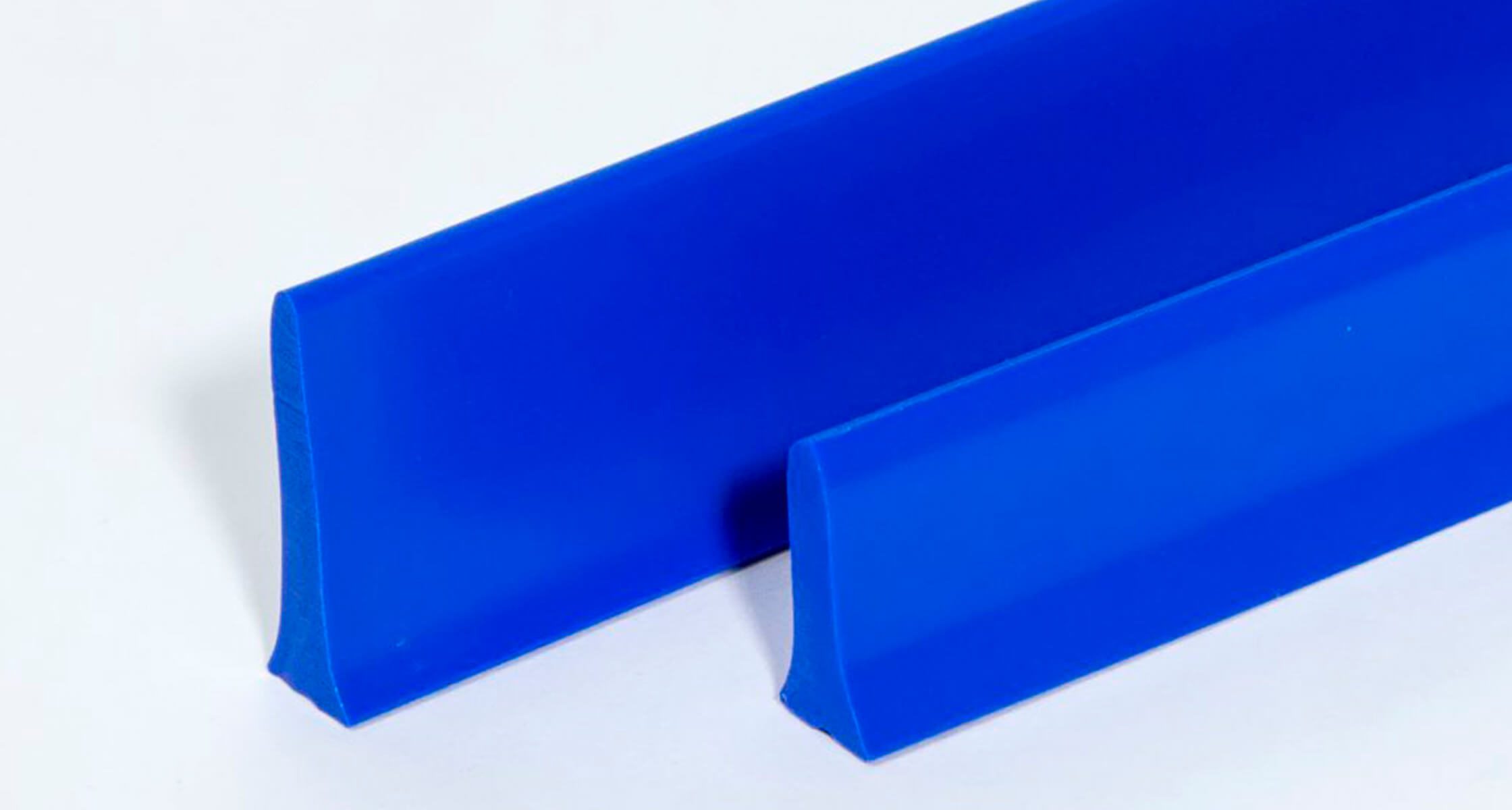 Straight and inclined TPU cleats of various heights are available for the belt´s top cover.
TPU "Runer" or sidewalls are also available to be installed on the belt´s top cover.
Contact esbelt for a quote